---
7:30 pm

Crestwood Civic Center; 14025 S. Kostner Ave., Crestwood, IL

We review the features of our Flex 5000A HF transceiver.  It will be used in the trailer  for Field Day operation.   So if you come our for Field Day, you will be able to get some quality time with the radio.   You will see how nice it works in contest conditions.  Thanks to Don, K9KNZ for the use of the antenna; Granville, W9PNG for set up work; and Mike, N9NNL, for his help with the presentation.

---

At our May meeting we introduce you to the Club's Flex 5000A HF transceiver

7:30 pm

Crestwood Civic Center; 14025 S. Kostner Ave., Crestwood, IL

 

Jim, W9JPR, will review the plans for Field Day.  This is always a entertaining and fun evening as we collectively reminis about past Field Day events.  Be sure to join us at the June meeting.

He promises no rain at Field Day this year…..

6:30 pm

Crestwood Civic Center; 14025 S. Kostner Ave., Crestwood, IL

Hamfesters Celebrates Independence Day

We will have pizza  from Beggars.  Feel free to bring a side dish, cole slaw (put on ice), potatoes, veggies, or a yummy desert.

7:30 pm

Crestwood Civic Center; 14025 S. Kostner Ave., Crestwood, IL

Hamfest !   August 7, 2016


Kurt, WB9FMC will work on making final arrangements for the 2016 Hamfest

8:00 am

Peotone County Fairgrounds

This page should redirect to the W9AA Hamfest website.

7:30 pm

Crestwood Civic Center; 14025 S. Kostner Ave., Crestwood, IL

Gregg, AB9MZ is going to review items and necessities that we should have in our "go-kit".  This is a quickly assembled kit of radios, batteries, and other emergency gear you should have at home.  He promises us NO Power Point slides.

7:30 pm

Crestwood Civic Center; 14025 S. Kostner Ave., Crestwood, IL

Steve Cooper will Enlighten Hamfesters with Music

Bandleader and Pop Historian Steve Cooper presents a video program of some of the funniest moments in music. Who can forget the great music and comedy of Spike Jones, Victor Borge and the "Hello Muddah" songs of Allan Sherman.

10 am - 3 pm

Highland In Fire Dept, 2901 Highway Ave, Highland, In 46322

Note the date change

Highland IN Fire Dept has invited Hamfester's Radio club to attend their Open House on October 8, 2016.
Hamfesters' trailer will be there and we will set up our field day station.  Everyone is welcome.
The open house is on October 8, 2016 at the Highland In Fire Dept, 2901 Highway Ave, Highland, Indiana 46322 (use the  southbound Kennedy Ave exit off I80/94)  Time:  11 am to 3 pm.

Planning the event in the pic below (Sept 9) was Don Pointer, (KC9EQQ), Don Scheidt (Logistics & Planning Chief), Mike Burdett (N9AFU), Jim Riley (W9JPR), and Granville Phillips (W9PNG).



Location: South Bridge Church, 1741 15500 S. 73rd Ave, Orland Park 60462

Hamfesters Radio Club will activate their W9AA station
in support of the Boy Scouts Jamboree On The Air (JOTA)
Saturday, October 15  Time: 10 am to 3 pm

South Bridge Church,
15500 S. 73rd Ave, Orland Park 60462
MAP

(Best access is off Wheeler Drive - two blocks west of Harlem Ave)

The operating site will be in the large open field behind the church.

All Hamfesters members are invited to stop by and see the station in operation.
We hope to be testing our new antenna so it is ready for field day next year.
The club's Flex 5000 will also be operating along with some VHF gear.

Chicago, IL 60617

Select members of Hamfester's Radio club has been invited to operate at the U.S. Coast Guard Auxiliary for their 77th Anniversary.  You must contact Mike Vannier, N9NNL, to get a pass to access the site. 

We will be operating as a special event station using the call sign W9C.  Look for W9C from your home station on Saturday!

Hamfesters Special Event at Coast Guard - October 22

7:30 pm

Crestwood Civic Center; 14025 S. Kostner Ave., Crestwood, IL

November Elections

November Meeting  The sunspot numbers are falling (the dreaded Solar Minimum)  and High Frequency propagation is getting worse.  This means we may need to resort to some interesting tricks to increase the odds of making a meaningful QSO.  Come to the November meeting and find some tricks to improve your HF communications.

Gregg, AM9MZ, will discuss  the reverse beacon network (RBN), WSPRNet, CHIRP, near-real-time critical frequency maps, and other tools that have become available to us. I will also share tips and tricks that I have collected over the past few year or so that can further help us in getting the most out of the solar and atmospheric conditions until we achieve better conditions for long distance communications.

4:30 pm

Traverso's Restaurant; 15601 S. Harlem, Orland Park, IL.

Any Hamfester member who has participated in helping with our Hamfest is invited to a planning meeting.  If you have any ideas on what will be good and interesting  for our hamfest, please attend.   We need input and fresh ideas.

6:30 pm

Papa Joe's; 14459 S. LaGrange, Orland Park

Information for Hamfesters Radio Club Christmas Party

Hamfesters is pleased to announce our Christmas Party.  We will start with a cash bar before dinner.  That will be followed by a banquet style dinner with plenty of great food and fellowship.  You must have a ticket to attend the party (see order box below).

In addition we will have some great door prizes!

Date:  December 2nd  - doors open at 6:30 - dinner served at 7:30

Location:  Papa Joe's   14459  S. LaGrange   See MAP

Get your tickets at the October or November meeting from Jim, KB9CYL, or online $25 each person.  Tickets ordered online will be held as "Will Call"  at the door by Jim.  If you wish to use a credit card and not PayPal, look around the order page for the option to use any credit card (look for the words: "Pay with debit or credit card" on lower right side of the PayPal page)

7:30 pm

Crestwood Civic Center; 14025 S. Kostner Ave., Crestwood, IL

---

Hamfesters will start the January meeting with a tribute to Jimmy, N9HSH, sk.


Nostalgia Night. We are going to share photos and stories of the early days of
Hamfesters. We will have a random selection of videos, photos and "remember whens".

If you have photos, souvenirs, or other artifacts you have saved from the old days regarding the Hamfesters Radio Club, let Don, KC9EQQ, or Jim, W9JPR know.

7:30 pm

Crestwood Civic Center; 14025 S. Kostner Ave., Crestwood, IL

7:30 pm

Crestwood Civic Center; 14025 S. Kostner Ave., Crestwood, IL

Hamfesters Annual White Elephant sale.   Bring your goodies to move along and take home some new stuff!  We all need new stuff.....right?

Hamfesters  will review the details of this fall's SS Badger boat trip from Manitowoc, Wi, and Ludington, Mi.  We will install antennas and operate marine mobile on Lake Michigan.  Mark your calendars now for this event. Saturday Sept. 23- Sunday Sept. 24.   Adult round trip $99; Stateroom w/overnight stay $75 (includes breakfast onboard Sunday morning).  To  make your reservations call 800/841-4243 for a special "Ham Cruise" rate.  Depart Manitowoc, Wisc. at 2 pm sharp.  Crossing takes 4 hours.

7:00 pm

Crestwood Civic Center; 14025 S. Kostner Ave., Crestwood, IL

Hamfesters  own Dave Bukowski, N9KPD, presents a qualifying weather storm spotting class.  After attending you will earn a "trained spotter" certificate from the National Weather Service.  Plan now to attend this important life saving offering.   Arrive early as space is limited.

---

So we know you are coming and can prepare your certificate in a timely manner follow

this link to

PRE-REGISTER

.     Pre-register here

7:30 pm

Crestwood Civic Center; 14025 S. Kostner Ave., Crestwood, IL

Digital Mobile Radio is sweeping the amateur radio landscape.  There is a lot of excitement about this new mode of voice communication.  It is time to find out more about DMR.  Hamfesters will give you the details of what this new open technology mode is all about.

We will answer the question why DMR is so compelling for hams to use and show us the basics of how DMR operates.  We are sure you will be impressed with the presentation and the capabilities of the DMR mode.  Patrick Brod, KB9ANL, will be introducing us to the wonderful world of DMR.

Several of our Hamfesters Club members have DMR radios and can show their operation to you after the meeting.   DMR has been specifically designed to offer at least the same range as 12.5kHz channel analogue FM so a direct replacement or upgrade from analogue to DMR is a practical proposition.  The technology promises improved range, higher data rates, more efficient use of spectrum, and improved battery life.

7:30 pm

Crestwood Civic Center; 14025 S. Kostner Ave., Crestwood, IL

Notice:  We will be taking orders for Field Day pins at the Friday meeting.  This is the last chance to order: $6.00 each.

Jim, W9JPR, will present his annual review of past field day events and also plan for the 2017 Field Day event.  Jim has a great collection of photos from past years activity that will certainly entertain us all!   Field Day operation is your chance to get your hands dirty and get on the air.  There is nothing like HF operation where you can pick off one station after the other.  Improve  your operating skills or maybe try CW using someone else's call!  Also planned is a "no-rain" dance and ceremony.

8:00 am

Altman Park, Worth, IL 115th and Beloit (two blocks west of Harlem)

As Seen On Ham Nation! 4-22-2015

Dates:

June 24 and 25, 2017

Set up time:

8 am at field day site

Activity start time:    

Operation begins at 1 pm

Location:

Maps of the area

Altman Park, Worth, IL

115th and Beloit

(two blocks west of Harlem) 

Jim Riley, KC9CYL

Field Day Chairman

George, N9VOK

Working the GOTA station

 

The main tent

Welcome center and GOTA

station

 
A well fed team is a high scoring team
 

---

Go to Picture Gallery for more great photos of Field Days past.

7:00 pm

Crestwood Civic Center; 14025 S. Kostner Ave., Crestwood, IL

Hamfesters Salutes the Veterans and First Responders

We will enjoy a fun club "picnic" following a presentation of the Colors by the Bridgeview VFW.   Thanks to Ron,  for arranging this significant show of respect to our country in observance of Independence Day.

We will order in pizza for the main meal, but everyone is welcome to bring a side dish or desert to share.  Presentation of the colors is a 7 pm and food will be available at about 7:15 pm.

If you bring food to share, be sure you have provision to keep it warm or chilled as appropriate.

7:30 pm

Crestwood Civic Center; 14025 S. Kostner Ave., Crestwood, IL

6 am Flea 8am inside

Will County Fairground

Hamfesters 83rd Annual Hamfest

Sunday August 6, 2017

Far South suburban Chicago's best hamfest.  Located in Will County off of I57, exit #327.  Computers - Electronics - Crafts.  Air conditioned indoor vendors and lots of room for free outdoor tail gating.

This year we have three speakers.  See our hamfest pages for more information.
https://hamfesters.org/hamfest/

Admission is $8 in advance and $10 at the door.  Tickets are also available online.

10am - 5pm

UA Local 597 Pipefitters Training Center, 10850 W 187th St, Mokena, IL 60448

10:00 am

Southern Illinois

Solar Eclipse 2017 - The day the sun will disappear - August 21st, 2017

"

For a swath of the country from Portland, Oregon, to Charleston, South Carolina, it will look like someone just turned off the sun in the middle of the day.

 Fourteen states across the US will experience about two minutes of darkness as the eclipse crosses from coast to coast between 10:15 a.m. Pacific Time in Oregon until about 2:45 p.m. Eastern Time in South Carolina. 

The real question is, have you figured out where you will be on August 21?

"

Interesting links relating to ham radio and the eclipse

7:30 pm

Crestwood Civic Center; 14025 S. Kostner Ave., Crestwood, IL

Emergency Preparedness 

Gregg, AB9MZ will offer suggestions and ideas for the well prepared amateur radio operator.  This includes making sure your home station can handle power outages and  severe weather.

In addition, a go-kit (or jump-kit) is what you prepare, keep ready, and grab on the way out the door when responding to the call for emergency response duties. It may consist of a fisherman's vest, a bag or satchel, or any kind of soft (but well made) "carry-on" luggage. It must contain all the stuff you will or may need for at least a 24 hour stay at your post.

2901 Hwy Ave, Highland, IN 46322

Everyone is invited to the Annual Highland Fire Department Open house celebrating Fire Prevention Week!
---
Hamfesters has a table at the Mini-Maker Faire – come visit us!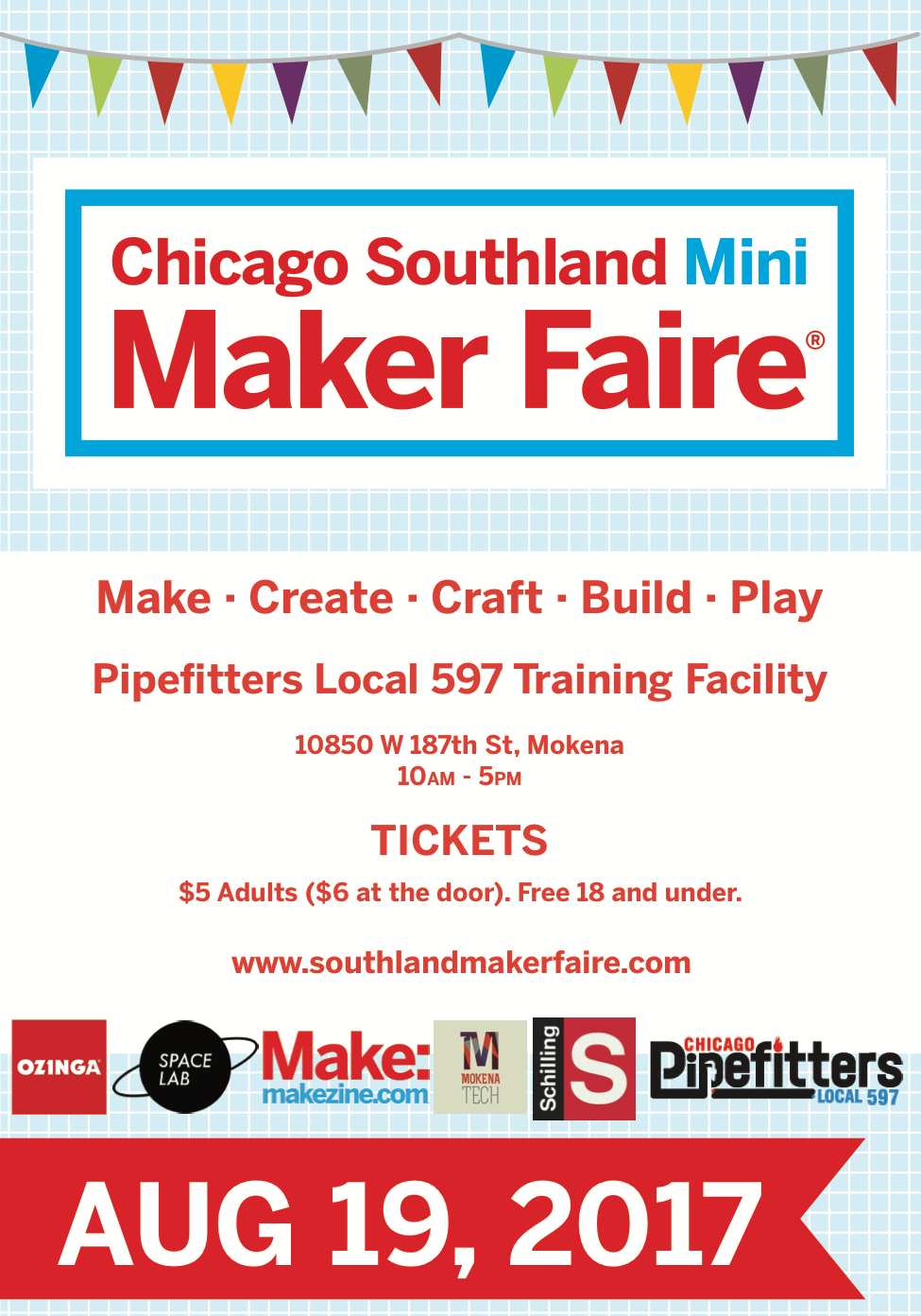 ---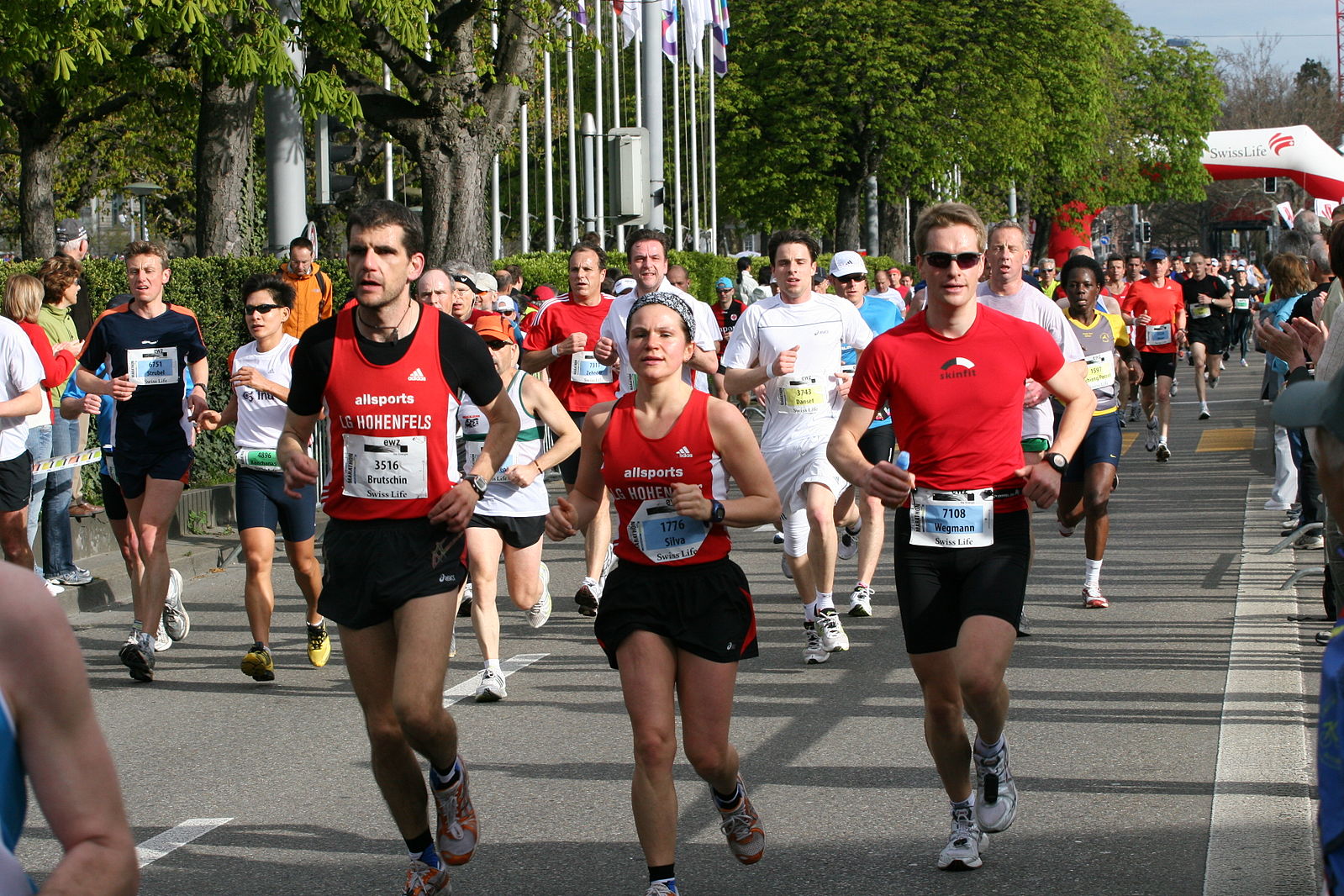 Need help operating at check points.
.
5K Walkathon Sept. 23 at 5 pm Location: College of Dupage in Glen Ellyn, IL
Contact Dave, N9KPD if you can help with radio coverage. They are using 440 analog radios
---
Notice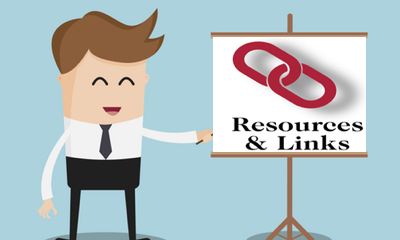 The visuals for all Hamfesters' presentations can be found here.
---
---
Annual Ham Cruise
Save these dates and plan to join us on a fun and relaxing cruise aboard the SS Badger: September 23 & 24
The SS Badger is registered Historic Landmark and the only coal fired ship in the US.
We have full permission to install antennas on the top deck and install our radio gear on the deck below. Imagine a ham station on the water with a perfect ground (a steel ship!) and no local noise (we are in the middle of Lake Michigan!) Enjoy a place where you will have no cell phone coverage – bring your radios and antennas or a good book.
Most of us take a round trip, but of course, you could ferry your car with you and continue your adventure in Michigan.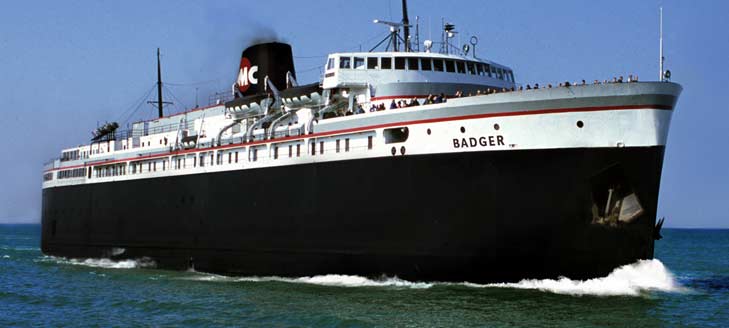 Adult round trip is $99. Stateroom w/overnight accommodations additional $75 (includes breakfast Sunday morning)
We board the steam ship Badger at 2pm CDT in Manitowok, Wisconsin and arrive in Ludington, Michigan four hours later at 7pm EDT.
The return trip departs at 9 am.
Call 800/841-4243 for reservations; ask for the "Ham Radio Cruise" special preferred pricing
There is plenty of free parking.
Thanks to Pete, K9OWQ for putting the trip together
---
Get your Hamfesters shirts
We have polo shirts ($35) and T-shirts ($25) – your choice.
Hamfesters logo is embroidered, not stamped.
(color is Navy blue – camera altered the color)
Thanks to Cindy, N9CAS, for making this happen.
---
Hamfester of the Year !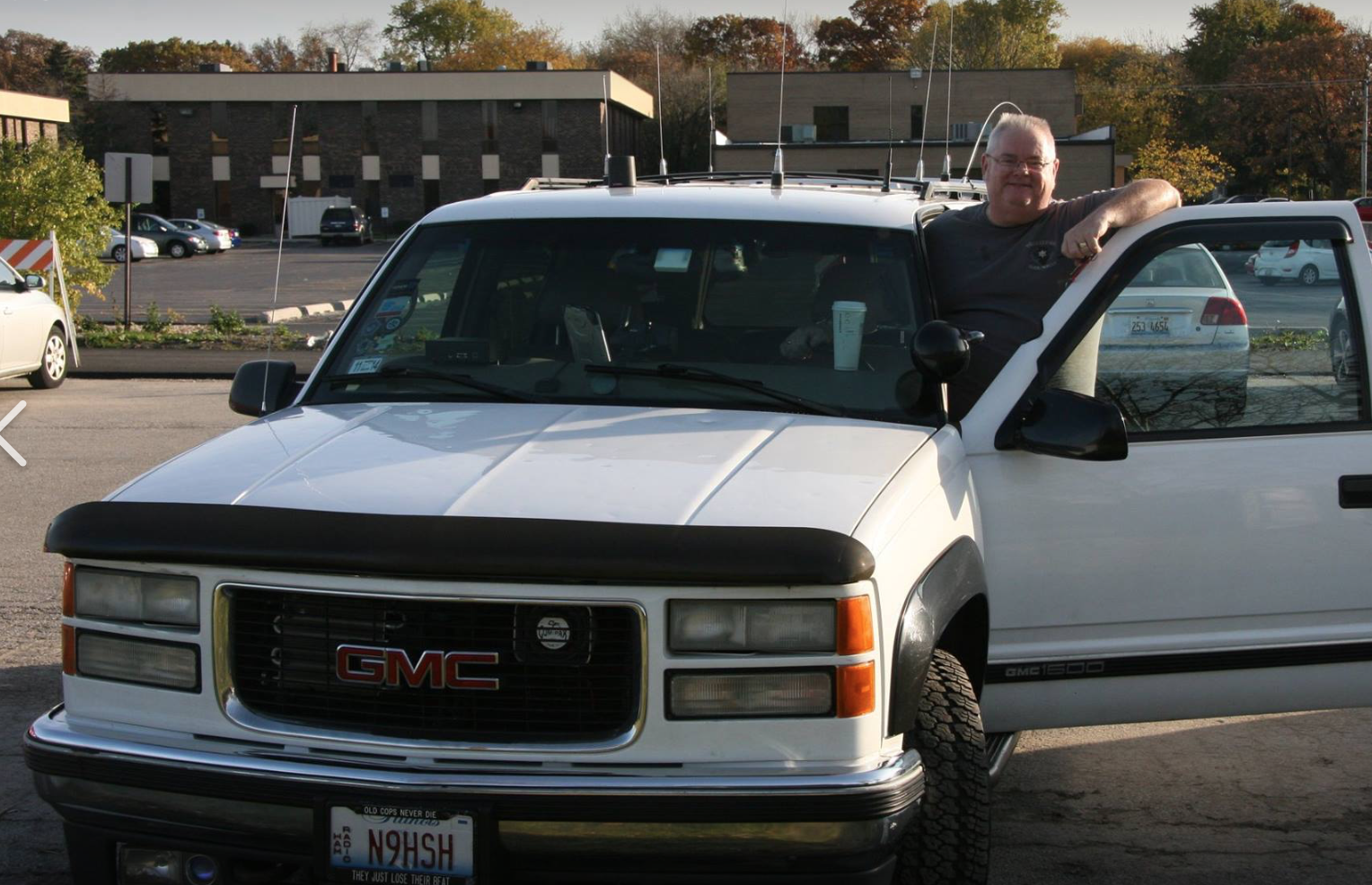 Congratulations to Jimmy Liston, N9HSH (sk)
---
President's Award!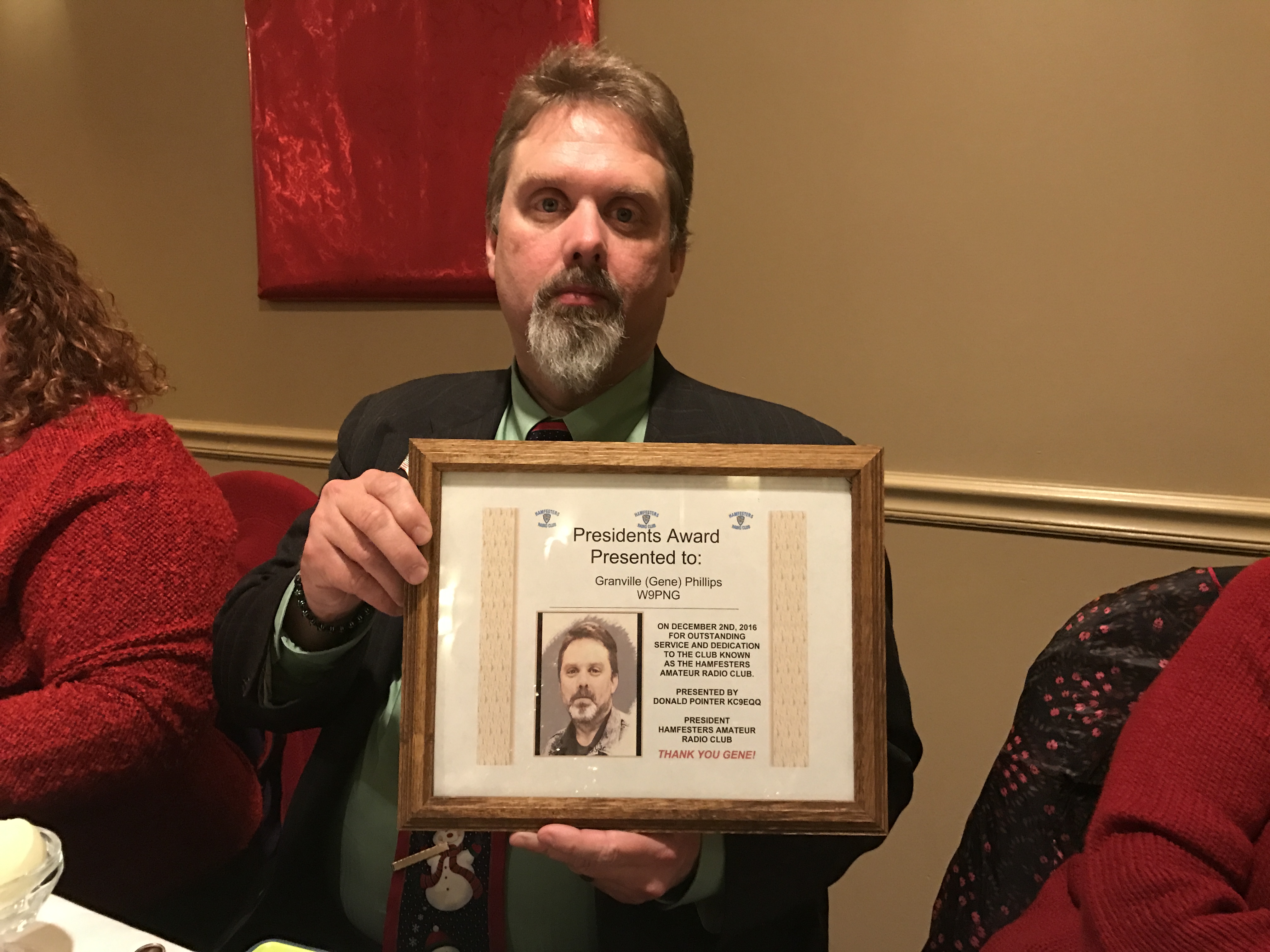 Congratulations to Granville Phillips, W9PNG !
---
New web page: the list of ham kits from June HamGab is now online with clickable links!