Next Meeting - Friday - October 3, 2014
Al, N9ZD presents a review of the exciting times in broadcast radio when WLW AM radio in Cincinnati
began running 500,000 watts AM!  This is not a table top rig!
Dave, N9KPD is inviting you to put your ham gear to support a 5K run/walk at College of Dupage.   Get more information here.
Estate Sale for Frank, K9BWQ.   Look over the nice equipment still available!
Last call to get your reservation for this great ham radio trip.
See details listed below and call now!
Operate ham radio on the SS Badger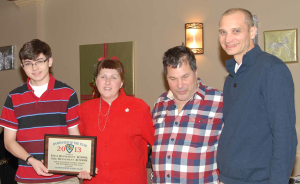 Hamfester of the Year
Congratulations to Steve, KC9OOL and Eric, KC9OOM!
Their work on the HamGab newsletter is impressive and much appreciated by every member of the club and those guests who also find HamGab on our web pages.  HamGab is open for all to read on the web and it does wonders to promote our club to others.   In addition it provides that vital internal club communication for all to read.  Great job, guys!
Meet the 2014 Club Officers and Board