7:30 pm

Crestwood Civic Center; 14025 S. Kostner Ave., Crestwood, IL

Emergency Preparedness 

Gregg, AB9MZ will offer suggestions and ideas for the well prepared amateur radio operator.  This includes making sure your home station can handle power outages and  severe weather.

In addition, a go-kit (or jump-kit) is what you prepare, keep ready, and grab on the way out the door when responding to the call for emergency response duties. It may consist of a fisherman's vest, a bag or satchel, or any kind of soft (but well made) "carry-on" luggage. It must contain all the stuff you will or may need for at least a 24 hour stay at your post.
---
We meet monthly, normally the first Friday of the month.
Location is the Crestwood Community Center 14025 Kostner in Crestwood, Illinois.
Meetings begin at 7:30 PM and last until 9:30 PM
Nora and Don need help setting up our meeting room.
If you can arrive by 6:30 to set up some chairs or a table, it would be very helpful.
As a reward for your help Nora has promised a short meeting!
---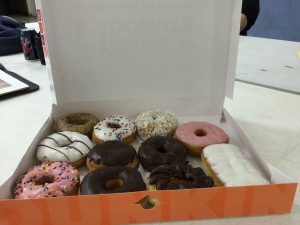 Our breaks include coffee, soda,
and donuts with great fellowship with other hams
(Thank you Cathy and Bob for the donuts!)
---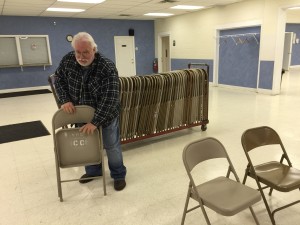 Above: John, KC9OOO helps set up chairs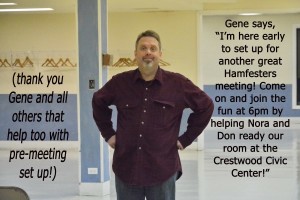 Above: Granville. W9PNG, is the meeting set up master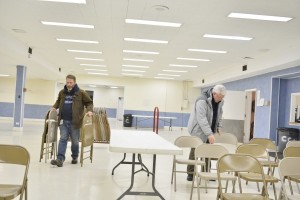 Granville, W9PNG and Norm, N9IRO help set up at February meeting
---
Future meeting dates: click here.
---
Pictures taken at a recent meeting.
---