Bruno Marusarz,  K9QKB, sk.  Bruno passed away recently.  He was a past member of Hamfesters.  There will be no services.
Jack Nienhaus,  W9NJB, sk.  John Wegge "Jack" Nienhaus passed away recently.  He was a past member of Hamfesters.  Memorial Mass at 9:30 am on 11/12/16 at St. Linus  Church,. 10300 S. Lawler, Oak Lawn.  Intermet at Lincoln National Cemetary, Elwood, IL.
Bob Maloney, W9TOE, sk.   Bob passed away recently.  No details are available yet.   There will be no wake visitation or funeral for Bob.
---
Notice: The visuals for all Hamfesters'  presentation can be found here.
---
7:30 pm

Crestwood Civic Center; 14025 S. Kostner Ave., Crestwood, IL

November Elections

November Meeting  The sunspot numbers are falling (the dreaded Solar Minimum)  and High Frequency propagation is getting worse.  This means we may need to resort to some interesting tricks to increase the odds of making a meaningful QSO.  Come to the November meeting and find some tricks to improve your HF communications.

Gregg, AM9MZ, will discuss  the reverse beacon network (RBN), WSPRNet, CHIRP, near-real-time critical frequency maps, and other tools that have become available to us. I will also share tips and tricks that I have collected over the past few year or so that can further help us in getting the most out of the solar and atmospheric conditions until we achieve better conditions for long distance communications.

11:00 pm

Location: TBD

Any Hamfester member who has participated in helping with our Hamfest is invited to a planning meeting

6:30 pm

Papa Joe's; 14459 S. LaGrange, Orland Park

Information for Hamfesters Radio Club Christmas Party

Hamfesters is pleased to announce our Christmas Party.  We will start with a cash bar before dinner.  That will be followed by a banquet style dinner with plenty of great food and fellowship.  You must have a ticket to attend the party (see order box below).

In addition we will have some great door prizes!

Date:  December 2nd  - doors open at 6:30 - dinner served at 7:30

Location:  Papa Joe's   14459  S. LaGrange   See MAP

Get your tickets at the October or November meeting from Jim, KB9CYL, or online $25 each person.  Tickets ordered online will be held as "Will Call"  at the door by Jim.  If you wish to use a credit card and not PayPal, look around the order page for the option to use any credit card (look for the words: "Pay with debit or credit card" on lower right side of the PayPal page)
---
Exciting news! Hamfesters shirts.
We have polo shirts ($35) and T-shirts ($25) – your choice.
Hamfesters logo is embroidered, not stamped.
(color is Navy blue – camera altered the color)
Thanks to Cindy, N9CAS, for making this happen.
---
Hamfesters of the Year !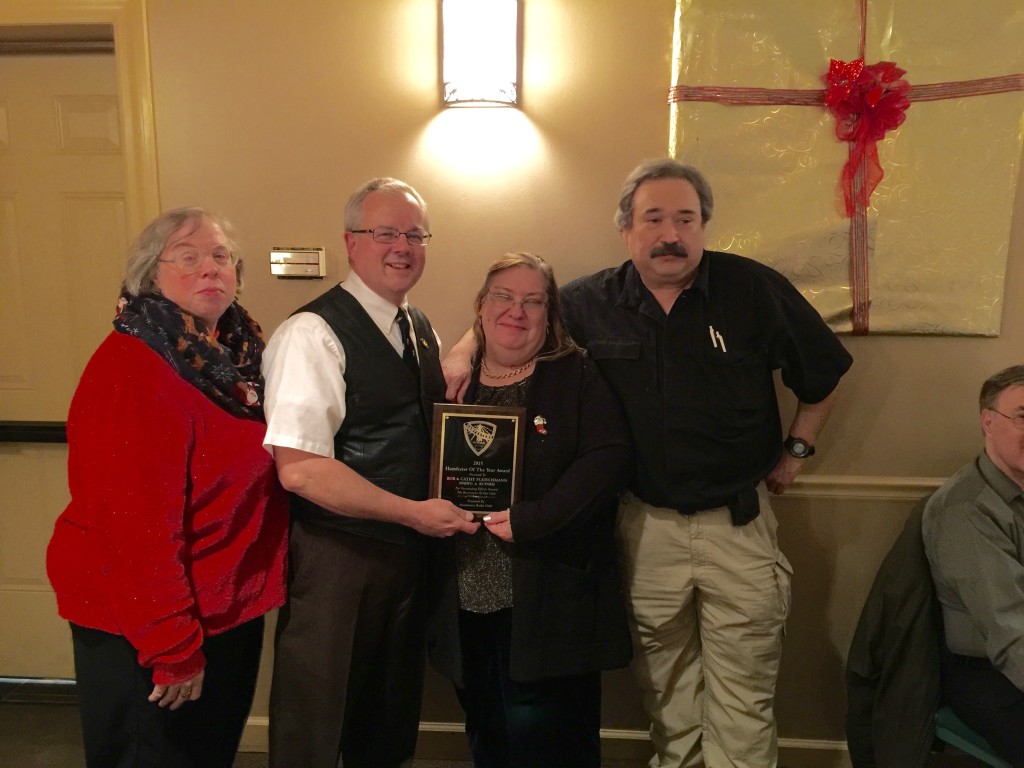 Congratulations to Cathy Fleischmann KC9NRH, and Robert Fleischmann N9KWG for winning the award!
Nora, KC9MLV and Don, KC9EQQ (2015 winners) doing the presentation [on left]
---
President's Award!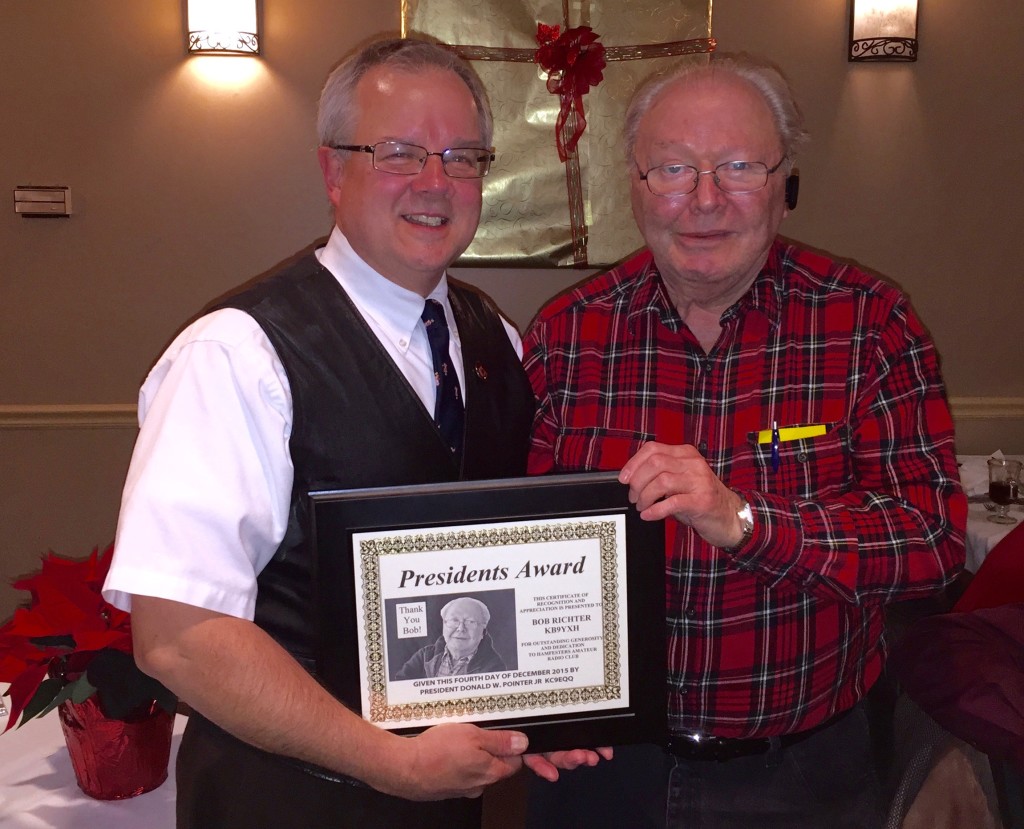 Congratulations to Bob Richter, KB9YXH !
---
New web page: the list of ham kits from June HamGab is now online with clickable links!